ICLIP 2022 Virtual Conference Highlights
The theme of the 2022 virtual ICLIP conference was "The Healing Power of Storytelling." Over 80 individuals representing the United States and other countries such as the Netherlands, Turkey, Australia, Canada and Belgium registered for the conference held on March 3rd and 4th, 2022.
This conference featured expert keynote speakers and presenters including 2 preconference workshops, 10 oral paper presentations, and 5 poster presentations.  The Conference Booklet presents the agenda, abstracts, and awardees.   All presenters received an invitation to publish their work in a special issue of the International Journal of Reminiscence and Life Review  which is scheduled to be published during the fall of 2022.
Keynote speakers included  Dr. Annie Brewster, of Harvard Medical School and Health Story Collaborative, and Dr. Jonathan M. Adler, Ph.D., of Olin College of Engineering and Health Story Collaborative. They described the work of their nonprofit organization, Health Story Collaborative, that translates the science of narrative identity into a variety of healing interventions.
In 2015 the organization established awards to recognize outstanding leaders in the field.  Nominated by peers, the following awards were presented at the reception:
Robert Butler and Myrna Lewis Exemplar Research Award

Alison Kris, PhD, RN, Fairfield University, Connecticut
James and Betty Birren Exemplar Practice Award

Wendy Bancroft, MA, Simon Fraser University, Canada
Florence Gray-Soltys Graduate Student Award for Exemplary Research or Practice in the Field of Reminiscence and Life Review

Deniz Pamuk, MSc Ph.D. candidate, Akdeniz University, Dept of Gerontology, Turkey
The John A. Kunz Award for Distinguished Service to the International Center for Life Story Innovations and Practice

Juliette Shellman, PhD, RN, University of Connecticut
---
Making Connections: Highlights of our Virtual Conference on April 30, 2021
On April 30, 2021, The International Center for Life Story Innovations and Practice held its first virtual conference marking it as a key entity in the field of reminiscence and life review.  Sixty-four individuals registered for the conference representing the U.S. from Hawaii to Connecticut. Furthermore, we had representation from the Netherlands, Jordan, Japan, and Canada. We were pleased to have faculty and student representation from the University of Connecticut.  The conference included a variety of approaches and topics representing the main themes that represent the philosophy and mission of the Center. Thank you to all our participants and special thanks to Dr. Phillipe Cappeliez, our keynote speaker.
See Schedule: Life Story Agenda
ICLIP Advisory Board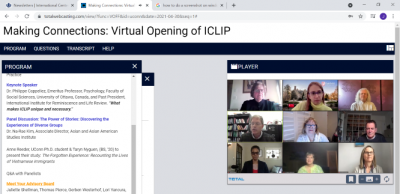 Dr. Gerben Westerhof